Stem Fuels supply marine  lubricants worldwide, but with local warehouses in Spain and the Americas we have an unique position to supply our customers in those areas. We are using our own facilities and local warehouses to transport the lubricants both by truck and barge.
The lubricants are within the highest standards and we are able to provide typical luboil brands from the majors such as Mobil, Total, Castrol, and Shell. We also have a range of equivalents which we can supply to our customers in case of a lack of the contracted brand they are using.
We promptly deliver lubricants and our team is available any-time needed at your service.
We can arrange luboil analysis at a well-recognized and independent laboratory, moreover, we deliver luboil analysis kit with your deliveries if required.
You will always be offered flexible lubricant contracts assuring the same price around the globe, with the guarantee of availability at the right place at the right time.
Our lubricant program has a full coverage of engine, cylinder, hydraulic, turbine, refrigerator, compressors- oils and a range of different greases.
We only work with dedicated partners and warehouses around the globe supplying lubricants to our customers no matter the time-zone and region differences.
Stem Fuels is official distributor and marketer of North Sea Lubricants (NSL). NSL manufacturer high quality lubricants in accordance with the standards of the Original Equipment Manufacturers (OEMs). NSL is also officially approved by renowned OEMs.
Stem Fuels can help you finding the right lubricant equivalents to your vessel.  See below picture for your guidance or reach out to our team to get the full sheet for various marine lubricant equivalents.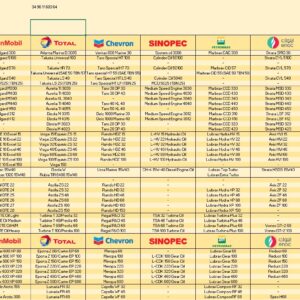 Typical marine lubricants we work with: